Educational facilities for the hearing impaired children are far less as compared to the large number of such cases in Lahore and in the country at large. The educational facilities provided to these children were not up to the required standards. To provide education to the Hearing Impaired Children on modern and scientific lines, Hamza Foundation authorities decided to set up an institute with an aim to provide the Hearing Impaired Students with quality education and social rehabilitation.
Hamza Foundation Academy for the Deaf, Lahore was established in September, 1988 for education, training and rehabilitation of the Hearing Impaired Children in line with the aims and objectives of the Foundation.
The history of the Hamza Foundation Academy for the Deaf started with the mosque building in Karachi by Sheikh Amin Hayat in 1954 and after his demise, his legacy was continued by his son (Sheikh Abid Hussain) and Hamza Foundation came into being. Different welfare projects run under this foundation. HFAD is one of the Projects of the Hamza Foundation. The children of Sheikh Abid Hussain (three sons & one daughter) were deaf and he faced many difficulties for their better education. This factor made him think about building an educational institute for the deaf. HFAD (Hamza Foundation Academy for the Deaf) was started in 1988 in the Gulberg area of Lahore. Before starting classes, training of the selected teachers was done for 8 months. Formally classes were started in May 1989 with forty students. With the passage of time, there was a dire need for its expansion, and the brick foundation of the existing building was laid down on 10th January 1997 by Malik Miraj Khalid (acting prime minister of that time). The new building was completed after five years and this building was inaugurated on 27th May 2003 by Mir Zafar Ullah Khan Jamali.The building of Hamza Foundation Academy for the Deaf (HFAD) is a custom-made building and covers an area of 40 canals. All facilities related to the hearing impaired students' needs are being provided.
A body named "AMIN HAYAT TRUST" was constituted with the ultimate objective of developing it into a grand charitable organization. Its name was changed in 1978 to HAMZA FOUNDATION and got it registered as a Welfare Trust. The name "HAMZA" was picked up in reverence of Hazrat Ameer Hamza, the uncle of the Holy Prophet (Peace be upon him)
152-J-1, M.A. Johar Town Lahore, Pakistan.
Tel: 0092-42-35300072, 35303968
From Play Group to 8th Grade
Hardware & Networking
Stitching & Designing
Textile Designing Diploma Graphic Designing Diploma Beautician Diploma Computer Application & Office Professional
Bachelor of Fine Arts (BFA) Graphic Designing Bachelor of Fine Arts (BFA) Textile Designing
HFAD has started BS Honors Audiology Program with the affiliation of University of Health Sciences
Goals For The Welfare Of Community The major goal of the out-patient department in HFAD is to provide all the facilities (audiology, speech and psychology) under one roof for the convenience of the patients. It aims to help people to get the best therapy and services at affordable rates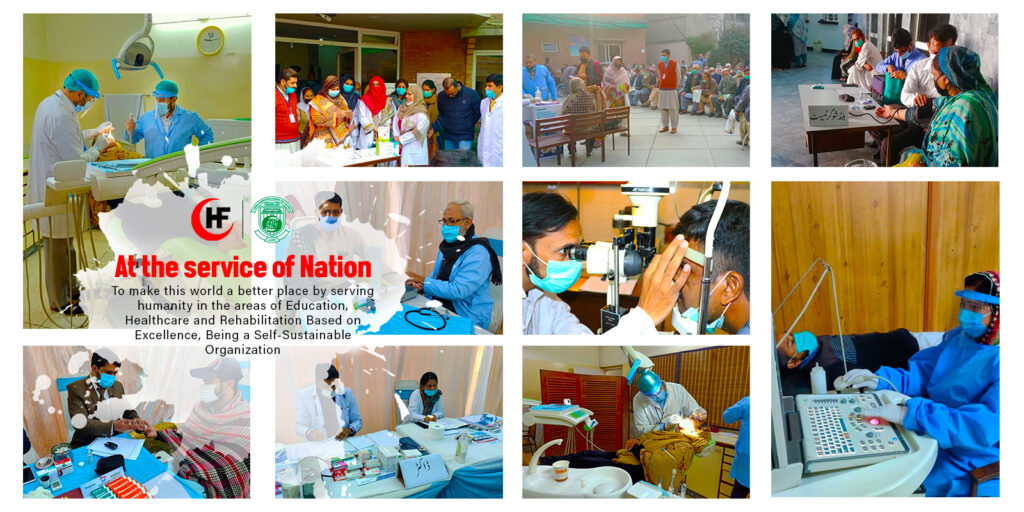 It was established in 2013 with the aim to provide speech and language assessment and therapy for all types of speech and language disorders not only for academy students but also for all out patients having problems like (articulation disorder, stammering, voice disorders,
dysarthria, speech and language delay etc.)
Assessment and management of all types of speech and language disorders for all age groups. Including
➢ Stammering
➢ Articulation
➢ Speech and language delay
➢ Dysarthria
In 2002, a separate audiology section was established. It is equipped with the latest digital equipment within academy premises.
HFAD is providing the following facilities to outpatients:
❖ Audiological Assessment
  ➢ Otoacoustic Emission (OAE)
  ➢ Auditory Brainstem Response (ABR)
  ➢ Tympanometry
  ➢ Pure Tone Audiometry (PTA)
  ➢ Conditioned Play Audiometry (CPA)
  ➢ Speech Audiometry
❖ Ear mould fabrication
❖ Hearing aid dispensing
❖ Counseling and guidance
Objectives of psychological OPD services are to provide refined treatment and intervention strategies related to mental health and well being. Services include
➢ Consultation and guidance
➢ Assessment with the help of reliable and valid tools for these problems:
1. Neurodevelopmental disorders
2. Intellectual functioning
3. Behavior related issues
4. Learning and academic difficulties
5.Adolescent and adult psychotherapy